Tartan Day April 6 - How To Celebrate The Scottish Holiday
---
Even Elephants Celebrate National Tartan Day on April 6th In American.
What's a Tartan?
April 6th is National Tartan Day in America and you can celebrate by researching your family history and finding whether you have any Scottish - or Irish - heritage. Both the Irish and the Scottish have tartans. They both have bagpipes as well. Tartans are clan "plaids" from which clothing is made so that the whole family can be recognized at once. The national tartan day is one of the best days that Scottish enjoys.
But Beware-- Before his death in 1832, the successful writer Sir Walter Scott was behind the propagandist measure of creating phony tartans to give to Scottish workers and to English government officials that were not closely related to anyone in the UK. This included King George II, who was a German Hannover. Not all tartans are actual clan tartans. Research your family history thoroughly and deal only with respectable dealers of genealogy products. OR --
Create Your Own Tartan. You can do this for fun. After all, the original, legitimate clan tartans were created by people - the clans-people, families - in the first place. If you have young children, you can work with them in order to come up with your own family crest or coat of arms and tartan. Write a history of your family and while you chose the symbols you selected for your coat of arms - get the grandparents involved - and keep the history with your creations. You might want to use your new creations on T-shirts for your next family reunion.
Design Your Own Tartan Here
This Interactive Tartan site lets you select up to 6 colors and create your own tartans. It presents a swatch to you that you can save and you can order cloth made in that pattern.Located in the UK, House of Tartan can be used to search for your official family or clan tartan or to create one of your own. Visit House of Tartan and access the free Tartan Maker!
NYC Tartan Day Parade
Tartan Day Parade is also part of Tartan day and this is one of the best part of tartan day i Scotland.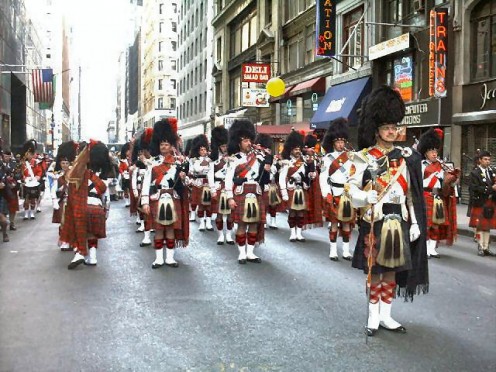 The First Holiday
On March 9, 2005, the US House of Representatives successfully passed House Resolution 41 to create National Tartan Day. The day is meant to honor and highlight the accomplishments of Scottish Americans in the forward progress of the United States since its inception.
Previously, in March 1998, the US Senate chose April 6 as National Tartan Day to commemorate the date of the final drafting of the Declaration of Arbroath.
After much warring between Scotland and England up to the 1300s, the Declaration of Arbroath was finished on April 6, 1320. It was written by monks at Arbroath Abbey to support Scottish nobility it was sent written in Latin to Pope John XXII, because he had not yet recognized Scotland as independent of England.Tartan day is best event for Scottish to show their culture.
The Pope responded positively and influenced King Edward III, who recognized Scotland's King Robert (the Bruce) and Scotland a sovereign nation in 1328.
The Declaration of Arbroath is considered a major influence on the declaration of Independence 450 years later. Nearly half of the American signers of our own Declaration were Scots, Scots-Irish, or recent Scottish-Americans.
Scots are popular here. Today, over 200 Scottish heritage organizations and clubs in America hold Robert burns night every year. Highland Games have held annually all through the South, where many Scots and Scots-Irish people settled from the time of British colonization of the New World. Scotland is everywhere in this land.
Various Confederate companies in the American Civil War adopted plaid garments in addition to the gray and the butternut brown uniforms that they wore.
Many southern counties of the US are named for Scottish landmarks and Colluden Georgia is named for a merchant, but also is the site of a bloody battle in April, just as was Culloden in the UK. The horrors of the Two Cullodens link our countries forever, even if the rest of the shared attributes and heritage will not.
Many Southern states, on their own, have honored National Tartan Day before 1998; but HR 41 made it official nationwide.
Some Famous Scots Descendants in America
Buzz Aldrin - Apollo 11. Second Man on the moon.
Neil Armstrong - Apollo 11. First man on the moon.
Alexander Graham Bell
Andrew Carnegie
Julia Child
Hugh Downs
Thomas Edison
Craig Ferguson - Scots-Irish, actually, and a US Citizen.
Malcolm S. Forbes
Billy Graham
Alexander Hamilton
John Paul Jones
Washington Irving
Peter Marshall - Pastor, husband to Catherine Marshall, writer.
Andrew Mellon
Samuel F.B. Morse
Grandma Moses
James Naismith - Invented basketball.
Allan Pinkerton - Detective
Edgar Allan Poe
Gordon Ramsey - Hell's Kitchen and other Food TV.
Ginger Rogers
Willard Scott - The first Ronald McDonald, a TV weatherman, and a mystery writer.
Robert Louis Stevenson
James Whistler
Tartan Day Celebration in Reynoldsburg, Ohio
The US States and several individual cities have begun to host tartan day,and even Tartan Month in the USA.
Many groups hold Scottish themed parades, festivals, music events, dancing, food concessions, Burns Poetry contests, Highland Games, and many other sorts of activities.